Find
Your Dream Yacht
06/15/2017
Looking for a Broker to help you find your dream yacht? Aqua Sol Yacht Sales is at the ready. Thank you to Simply The Best Magazine for creating a great article that gets to who we are and how we enjoy working with our clients, both buyers and sellers.
Read article at Simply The Best Magazine

Although Aqua Sol Yacht Sales is less than two years old, owners Lars and Bonnie Edson have plenty of experience navigating the waters of yacht sales and marketing, as well as the boating lifestyle. In addition to having numerous and varied boats themselves, Lars is also a licensed Coast Guard Captain and Bonnie's professional background has included marketing and corporate administration which made this couple perfect for entrepreneurship.
Their team is just as experienced with military and commercial boating backgrounds. Buying a used yacht – ranging from 30 to 130 feet is not just about price and model specifications, it's really about pinpointing how you want to use your yacht. "We ask a lot of questions when we interview clients who are in the market for a boat," says Lars. "What boats have they had in the past? What are their goals with boating? Do they want to use the boat for restaurant hopping, traveling to the islands, or for doing the "Loop"? Will they be relocating the boat seasonally, going up and down the East Coast? Are they into sport fishing, hanging out at the sandbar or do they want it for sunset cruises?" In other words, what is your boating lifestyle?
Aqua Sol's specialty is being client focused for both buyers and sellers, selling boats quickly and for the maximum amount. "We do a detailed marketing analysis for sellers," says Lars, "and are in constant communication during the listing through a stress-free closing. On average, we sell our inventory in 90-120 days, while the industry average is 280 days. We also get 15 to 20 percent more for our sellers than the industry average," Lars points out.
Besides their marketing and sales skills, Aqua Sol Yacht Sales brokers makes it a point to educate the seller and make sure the boat is "show ready." A full service brokerage, the Edsons and their team also provide assistance with financing, insurance, mechanics, and maintenance. "We're not a management service yet, but that is what we are looking at in the future," says Lars. For now Aqua Sol has exceptional marine industry partners they can recommend for repairs, detailing, and any financial considerations.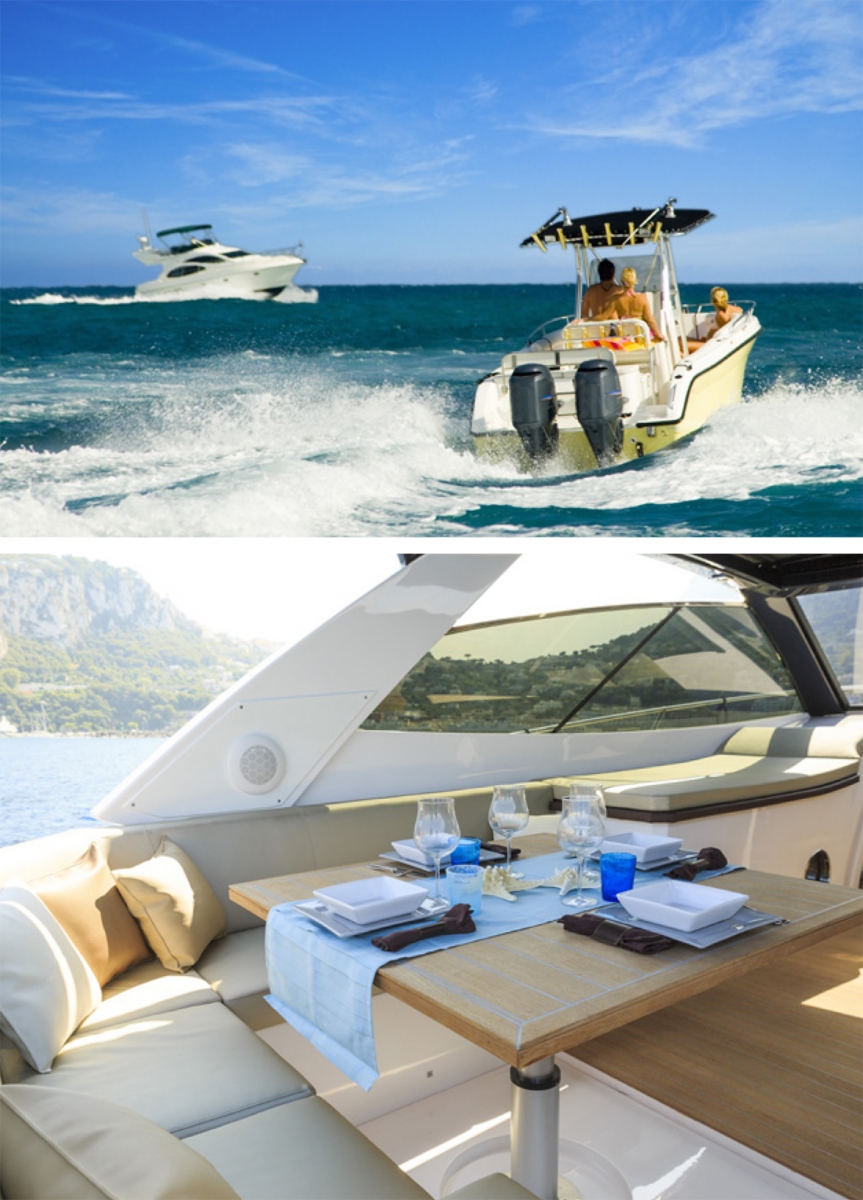 With locations in West Palm Beach, Jupiter, and Stuart, and new locations coming soon to Ft Lauderdale, and the West Coast of Florida, the Edsons and their brokers are generally out on the road meeting with clients at their homes, personal docks, or area marinas. "Our focus is on motor yachts and sportfishing boats," Lars says, "but we handle everything. Generally the minimum size and price we handle is 30 feet/$100,000, but we will take a smaller vessels such as center consoles, if they are nice and clean.
Like real estate, the boating industry took a hit during the economic downturn and boating manufacturers decreased their output. "I would love to talk to sellers with boats from 2010 on up," says Lars, "because there is not as much new inventory as we would like to see. Smaller boats, from 30-50 feet have really taken off, but the larger boats have slowed down a bit." Sailboats have also been trending upward. Aqua Sol buyers are a wide demographic, but many are retirees wanting to fulfill a dream. Others are executives, higher-level management, and business owners who are still working and look forward to boating as their form of relaxation. Some have had multiple boats and want something bigger or smaller, and a number of seasonal residents already have a boat up north.
Quite a few people in Florida, maybe 20 percent, are looking for a live-aboard yacht, a floating condo that can be docked at a marina that has a pool, restaurants, and health club. Membership in a yacht club often comes with reciprocal privileges at other marinas in Florida. "A lot of people buy a boat with the idea of going to the Bahamas," says Lars. "But when it comes right down to it, going up and down the Intracoastal or to the Keys, or visiting friends provide lots of boating opportunities close to home."
Whether you boat as an extension of an outdoor lifestyle, to relax, or to entertain family and friends, Aqua Sol Yacht Sales can help find the boat that is perfect for you.
Aqua Sol Yacht Sales
855-927-8276